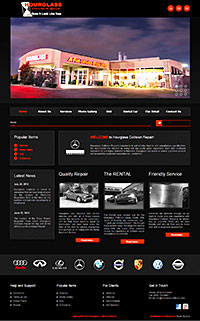 Requirement:
Hourglass Collision Repair approached Shark Studios to design a website commensurate with their position as the leading certified Mercedes Benz repair shop in Oklahoma. The new site was to be visually attractive, easy to navigate, with content geared towards marketing the full range of services they provide to their high-end clientele. The site needed to be easily updatable by non-technical staff.


Solutions:
The new site gave Hourglass Collision Repair a web presence that reflected the high quality of work they do. The attractive, visually appealing design encourages a high click through rate and the easy navigation allows users to browse and quickly find the information they need. A Content Management System was incorporated to allow non-technical staff at Hourglass to add or change site content using a simple browser with internet connection anytime, anywhere. Permissions restrict updates to only those areas of the site web authors have been assigned. Google Analytics was installed to track page hits and traffic flow throughout the site, allowing them to gauge public interest in key areas and modify site content accordingly. Version control easily allows rollback to previous website versions in part or in full. A flash photo gallery was developed to allow users to see cars in various states of repair. The site will increase revenue and give users detailed information about Hourglass Collision's services, reducing the time it takes staff to answer questions over the phone.


Results:
The final result is a site that is easy to navigate, visually appealing, as well as allowing non-technical staff to manage site content themselves.